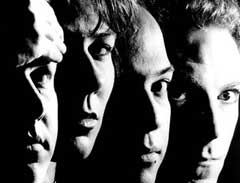 Ok, here's the deal… saw the Pixies… ok, so Frank Black is fat… and they got old… and their music lost that edge… but they're still the Pixies, so i still pulled out my lighter and then started moshing in my apartment with my christmas tree which i still haven't taken down yet.
What an amazing band tho, if you haven't heard the Pixies, you need to come out of the rock you've been living under. Do you realize how much of the music you listen to have been influenced by the Pixies?? Have some respect, man
I love you Mr. Black… you too chick bass player…
I dedicate this post to Dave Marcos who gave me the heads up to watch, who introduced me to this great band. Dave remember when the Pixies called us to hang out? Good times, bro.